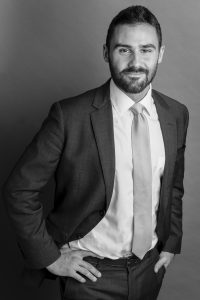 Garen Arnet-Zargarian is an associate at Peck and Company, where he practices primarily criminal law. He joined Peck and Company in 2015 as a summer student, and completed his articles at the firm. Garen has represented clients at the British Columbia Provincial Court, Supreme Court and Court of Appeal as well as in front of regulatory bodies such as the Law Society of British Columbia, the College of Pharmacists of British Columbia and Road Safety BC.
Garen graduated as class Valedictorian from the University of British Columbia Faculty of Law in 2016. During law school, he earned several scholarships, including the Panvini Scholarship for academic excellence and the Prosecutors Service of British Columbia Award for contributions to criminal law. He also received awards in national and international law school moot competitions, while advocating in both French and English. In 2014, he joined the UBC Innocence Project and continues to work to overturn wrongful convictions.
Garen is a member of a number of criminal law organizations, including his role as a Director of the Criminal Defence Advocacy Society.