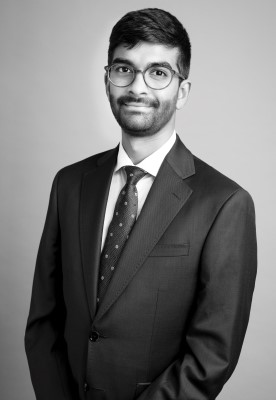 Mark Iyengar is an associate at Peck and Company, where his practice focuses on criminal law, administrative law, and appellate litigation. He has argued at all levels of court in British Columbia and in the Supreme Court of Canada.
Mark joined Peck and Company in 2020, after serving as a judicial law clerk at the Supreme Court of Canada and the Court of Appeal for British Columbia. Before clerking, Mark articled in criminal and extradition law with the federal government.
Mark received his J.D. from the University of British Columbia in 2018, where he graduated as a Wesbrook Scholar — UBC's highest accolade. During law school, Mark co-chaired the steering committee of a tenants' rights society, assisted with a constitutional challenge launched by a community law office, and co-founded a non-profit legal organization. He received a number of awards for his leadership, community involvement, and academic achievement, including the prize for the highest standing in criminal law, the HSBC Emerging Leader Scholarship, and the Law Foundation of British Columbia Public Interest Award.
Currently, Mark is an adjunct professor at the University of British Columbia Faculty of Law. He also sits on the board of directors and executive of the Federation of Asian Canadian Lawyers (British Columbia) Society, serving as Vice President (External), having previously served as the chair of the advocacy committee.