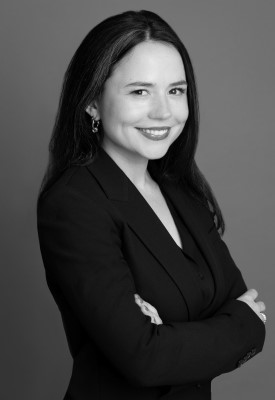 Sarah Pringle is an associate at Peck and Company, where she represents clients in criminal and regulatory matters. She has appeared at all levels of court in British Columbia.
Sarah first joined Peck and Company in 2019 as a summer student. She returned to the law firm in 2022 after serving as a judicial law clerk at the Supreme Court of Canada and the Court of Appeal for Ontario. She was called to the bar in Ontario in 2021, and in British Columbia in 2022.
Sarah received her J.D. from the University of Victoria in 2020. During law school, she received numerous awards, including the President's Scholarship, the Law Foundation of British Columbia Public Interest Award, and the Maclean Scholarship in Legal History and Criminal Law. Upon graduating, the Faculty of Law presented Sarah with the William McIntyre Medal — an award presented annually to a member of the graduating class who exhibited the highest qualities of community service, student leadership, and academic excellence. On top of her studies, Sarah worked part-time as a research assistant for a criminal law professor and as the Student Coordinator of Pro Bono Students Canada. She was also the Submissions Editor at Appeal Law Journal and the Social Coordinator for the Law Students' Society.
Before law school, Sarah studied history at McGill University. She also volunteered with inmates serving life sentences, worked with a non-profit that supported marginalized youth, and assisted with an Indigenous cultural revitalization initiative in Nunavut.